A collection of 61 photographs of The Beatles from their iconic Shea Stadium performance in 1965 have sold for £30,680 by Omega Auctions in a specialist Beatles Auction to mark the 50th Anniversary of their first album Please Please Me. The auction featured over 250 lots or rare lots of Beatles Memorabilia selling for a total of over £150,000.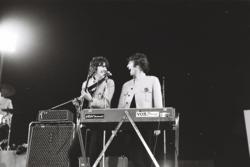 it was incredibly tense as three telephone bidders battled it out to buy the iconic photographs
The 22nd March 2013 marked the 50th anniversary of the release of The Beatles first album "Please Please Me" and to celebrate the occasion over 250 lots of rare Beatles Memorabilia went under the hammer through specialist Rock & Pop Auctioneers, Omega Auctions. Amongst the star lots were a collection of incredibly rare photographs from their iconic performance at Shea Stadium in 1965, which sold for £30,680 including premium against an estimate of £15,000 - £20,000. A further collection of colour photographs taken in 1964 sold for £27,140 against an estimate of £10,000 - £15,000. Other rarities included a copy of the iconic album Please Please Me in stereo and on the black and gold label together with a set of autographs which sold for £7,434. Overall 80% of lots met their reserve prices with a total sales value of over £150,000.
An extremely early and very nearly complete set of Beatles autographs signed on the back of a ticket for their gig on the 10th Feb 1962 (same day apparently that they were rejected by Decca!) at St. Paul`s Presbyterian Church Youth Club Hall in Tranmere, Birkenhead is expected to sell for around sold for £1,534 – it was missing a part of the ticket and Paul McCartneys signature as it had been torn off by the seller to give to her friend who was a big fan of McCartney. Auctioneer Paul Fairweather states "we are still hoping that the other half of the ticket will turn up in the next few days. If the ticket and signatures were complete it would have sold for considerably more"
The auction was broadcast live over the internet attracting Beatles fans from four corners of the globe. Fairweather states "it was a great sale – it was quite tense at the end when it came to the sale of the two sets of iconic photographs with three telephone bidders and a gentleman in the room battling it out. Interestingly the gentleman who bought the iconic Shea Stadium photographs is a South American gentleman currently living in Washington – he is a huge collector of Beatles Memorabilia and has an original Oscar which was presented to John Lennon in 1970 for the song "Let It Be – it would be interesting to see what that would sell for!"